(Editor's Note: The We Carry Kevan team loves to celebrate with those who are celebrating joy and access and adventure, but we also grieve with those who grieve suffering and trials and loss. We asked one mother to share her family's story of life, death, and healing, as a way to comfort and encourage others who are walking this journey: You are not alone, and you are not forgotten. And your story is not over.)
Guest post by Lindsey Hamilton
Adoption is how our story begins, and it's a tale of sacrifice, love and adventure. Adoption is rooted in loss, but the Lord is an expert in taking hurting broken beginnings and producing the most beautiful stories.
After an orphan advocacy trip to China where I met many beautiful children of all abilities, I felt the Lord moving my heart in pursuit of a child with complex medical needs. As only the Lord could do, our family was saying yes and bringing home a beautiful one-year-old boy two months later through a domestic adoption. The moment I laid eyes on Zeke I was instantly in love and terrified all at the same time. The extent of Zeke's medical needs were clear by the way he struggled to hold his head up, and the jerking motions of seizures. But the medical needs seemed to fade into the background as the light in his eyes shined, and I spotted the dimple on his left cheek. Love for this special little boy canceled all the fear in that moment and would be what carried us through the hardest days to come.
Six days after placement Zeke was hospitalized and we were given a terminal diagnosis, and this is where the adventure begins. The doctors could not say how much time we would have with Zeke. The extent of his brain injury made all the basic things in life difficult for him from breathing and eating, to temperature control. Hearing the word terminal was difficult but as a family we decided that this was just a word, and that we were going to live each day with Zeke like it was our last.
This is where my search began for other people/families that were on similar journeys. After joining several Facebook pages, I stumbled upon WCK. I say stumbled but looking back now I know it was the perfect sovereignty of the Lord. We applied for a We Carry Kevan backpack and had one on my back hiking with Zeke in a matter of weeks. The freedom this gave our family is a priceless gift that I could never repay. You see a month later our sweet Zeke would leave this world to be with Jesus, but the time we had with our WCK backpack gave us adventures that would not have been possible otherwise. WCK gave Zeke once-in-a-lifetime opportunities like sticking his toes in a waterfall, walking where dinosaurs once roamed, exploring a cave, feeling the wind on his face as we hiked, and sitting and soaking up the sun after reaching our destination. This backpack gave our family the gift of priceless memories of adventure with our special boy. Zeke was only with us a short time, but we lived more life in that year and a half than most do in a lifetime.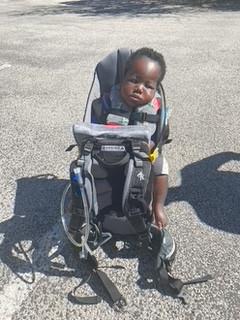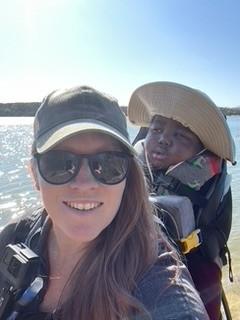 During our time with Zeke, and as a way for our family to always have a piece of him with us, we bought a small green dinosaur to take with us on all our adventures. The dinosaur became a part of our family adventures and aided in our healing after Zeke's passing. The dinosaur we lovingly named ZJ for Zeke Jr. was able to do all the things Zeke was not able to do, and this helped our other children at home feel like they always could include Zeke in all the things that weren't safe for him on our adventures like climbing trees or jumping over creeks. After Zeke's passing, and as a way to take Zeke on one last hike, we loaded ZJ into our WCK backpack and hiked the summit of a popular mountain in our state. The backpack felt light hiking to the summit without Zeke, and the grief felt heavy on our hearts. Taking that last trip was healing and gave us an opportunity to sit on the summit and give thanks for all the memories we had with Zeke, and the freedom that the WCK backpack gave us in those final weeks.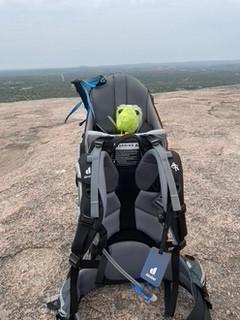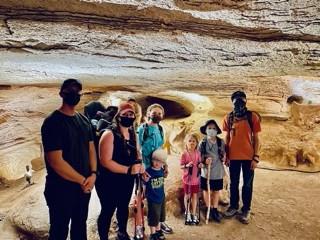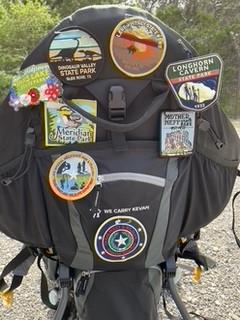 A year has passed since Zeke left us, and we have found healing in hiking and adventures. ZJ the green dinosaur still comes with us everywhere we go, and the time has come for us to pass along our WCK backpack to another family. It's a bittersweet release to let go of something so meaningful and impactful on our family, but the joy it will bring another child and family is worth it. Our story began with loss of a birth family, and it may seem that it ended in loss but like I said the Lord takes stories of hurt and brokenness and turns them into something beautiful. Our time with Zeke was worth every hard trial, and the impact he had on our family has forever changed us. Zeke never spoke a word, but he encouraged others, and had a testimony that God still moves in the lives of every person He creates. Zeke may not be carried physically on my back, but he is carried through the telling of his story and WCK continues to give us opportunities as We Carry Zeke's memory!