The first time Milton Guzmán heard the word "Duchenne" was on April 4, 2019, at 10:30 am, when he learned the diagnosis for his son, Eduardo. Duchenne muscular dystrophy changed their lives completely, bringing with it many questions, concerns and fears, but Milton is thankful for the friends who support them and God's provision and care for them. "There are many things that we do not know but along the way of this Duchenne journey we are learning them," Milton says. "We have had the privilege to make more friends around the world, and I think that more than friends we have found a great family of people who fight and try to do their best for their loved ones who have terminal illnesses."
Milton has worked hard to give Eduardo the best quality of life possible, and he has written to people in different parts of the world to request information, help, special equipment, or advances in drug therapies. This is how he found We Carry Kevan. When their WCK pack arrived in their home in El Salvador, the family was so excited that they opened it, immediately put it on, and took photos.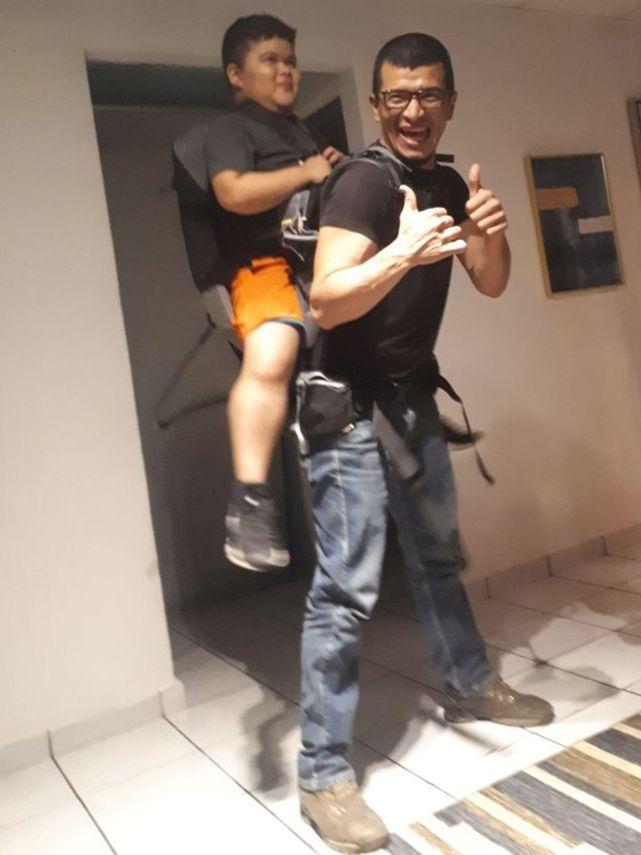 Shortly after that, Milton reached out to the WCK team to schedule a video chat consultation; he wanted some help to adjust the pack for he and Eduardo, but he also planned to share the pack with other families in his country, so he wanted to be able to make adjustments for all sizes and special needs. The WCK team invited a Spanish-speaking friend to translate on the call, and Kevan's dad, Peter, demonstrated the versatile adjustments of the pack.
Father and son wasted no time in planning their first epic backpacking adventure. On Saturday, March 19, Milton carried Eduardo up Santa Ana – the highest active volcano in El Salvador! There is an incredible view from the top, of Lake Coatepeque, the Pacific Ocean, other volcanoes, mountains and mountain ranges. But one of the most special moments is being able to look down into the massive crater of the volcano and see the way the sulfur paints the water a bright turquoise color. Milton says, "I plan this and other activities… so that Eduardo can have the experience of doing things or reaching places that in his own strength are impossible."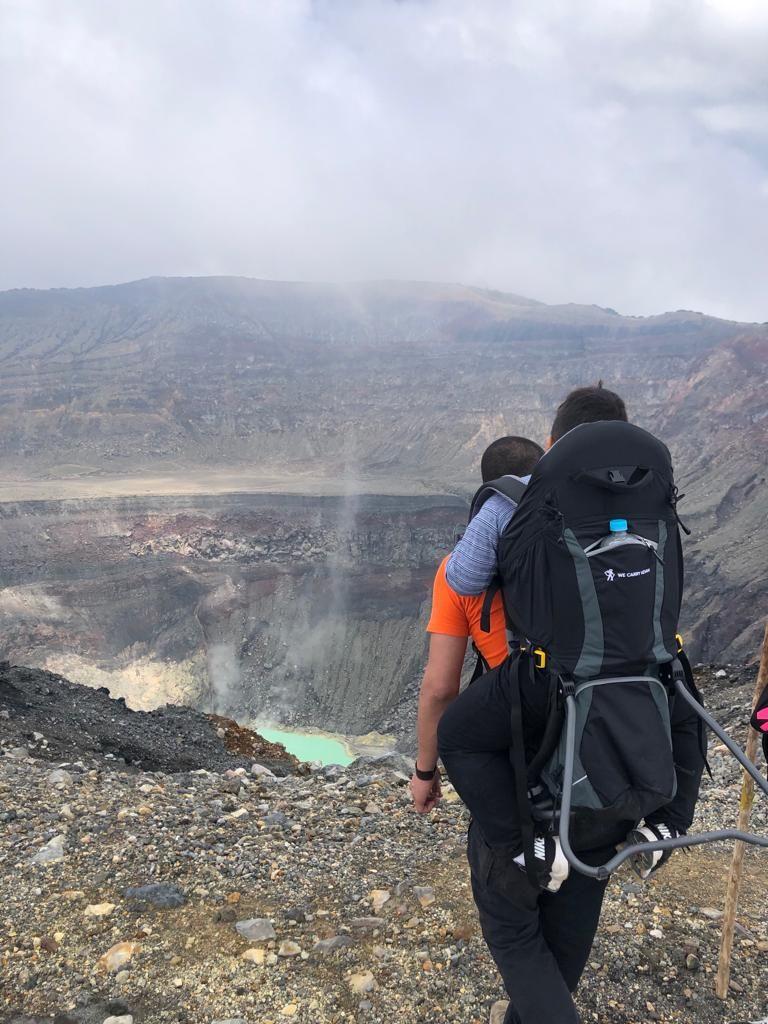 This wasn't the first time Milton had hiked this volcano. On his own, he could do the trip in an hour and a half without too much exhaustion. But he knew it would be a different experience with Eduardo strapped to his back. So he trained for a few weeks in advance, filling a normal backpack with dirt and rocks and hiked with it to build up his strength and stamina. He also asked a friend to carry Eduardo part of the way, to help him.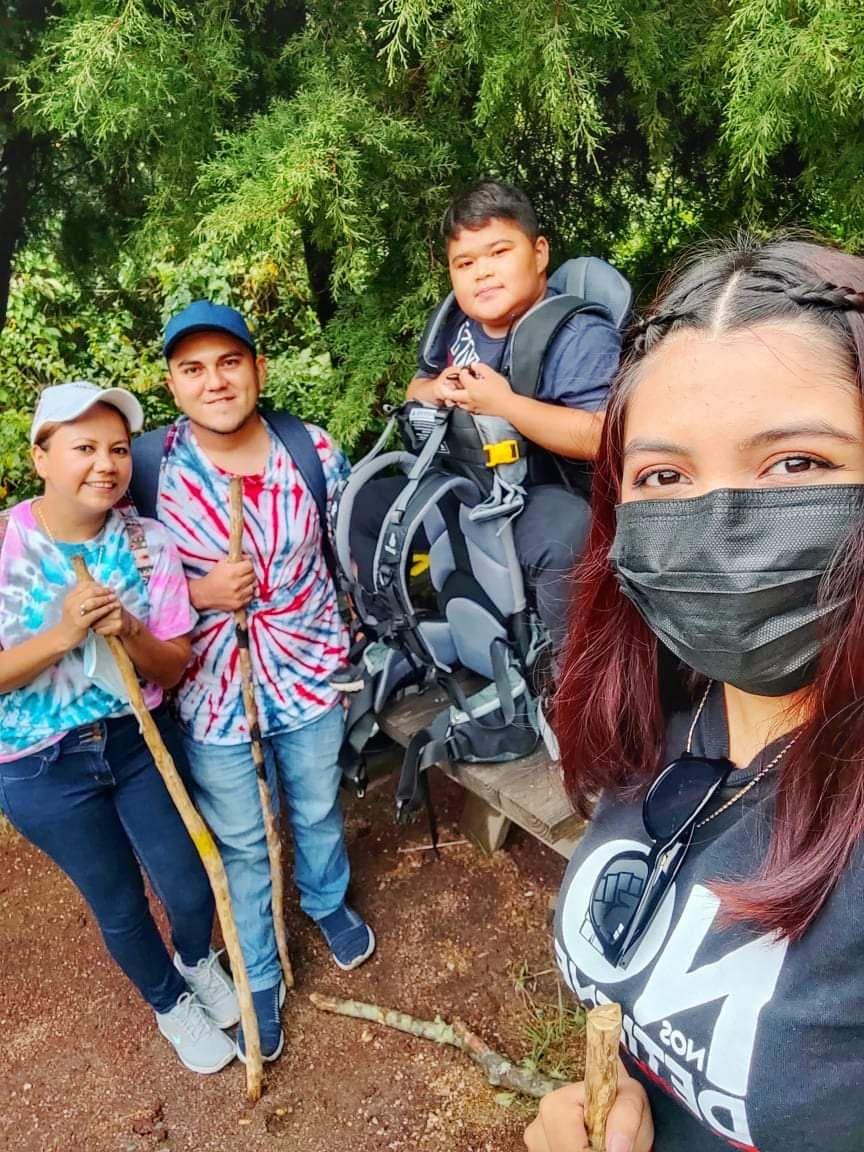 The hike with Eduardo lasted four and a half hours. "The big question was, can I make it?" Milton laughs. "I took each step with a lot of love because I knew I was doing it for him." About 200 meters from the top there was a moment when he didn't think he could go on. But Eduardo patted his shoulders, told him to take a fifteen-minute break so he could finish well, and reminded him that they would get nice cold popsicles at the top. The happiness on Eduardo's face and this little encouragement was enough to help him reach their goal.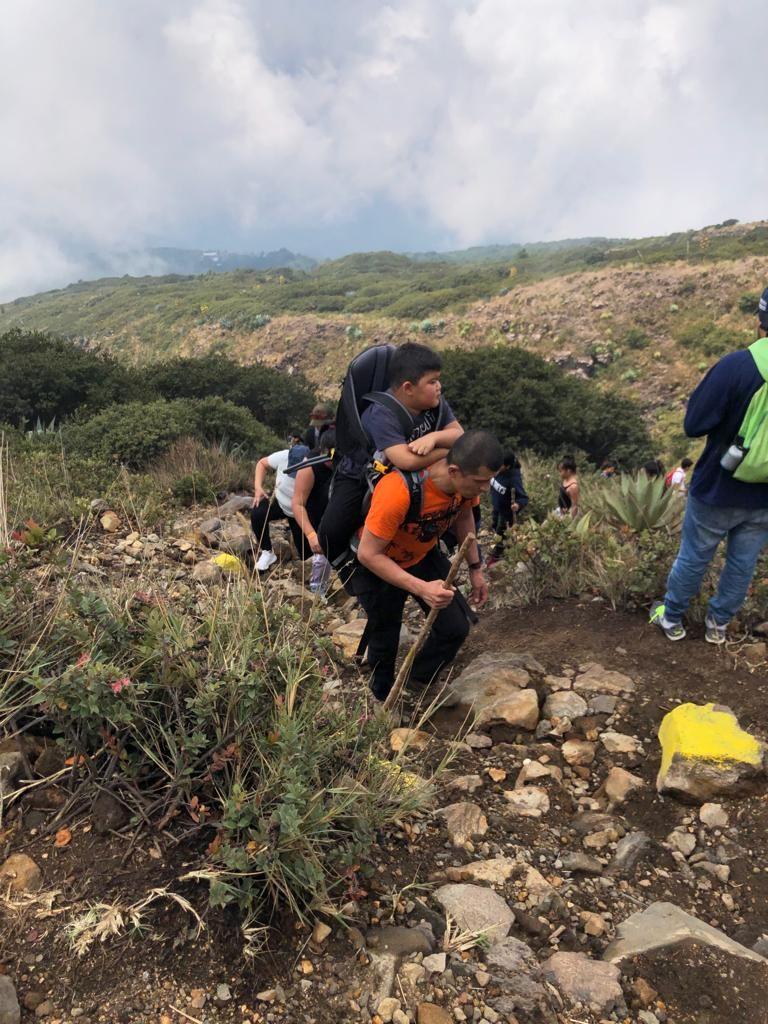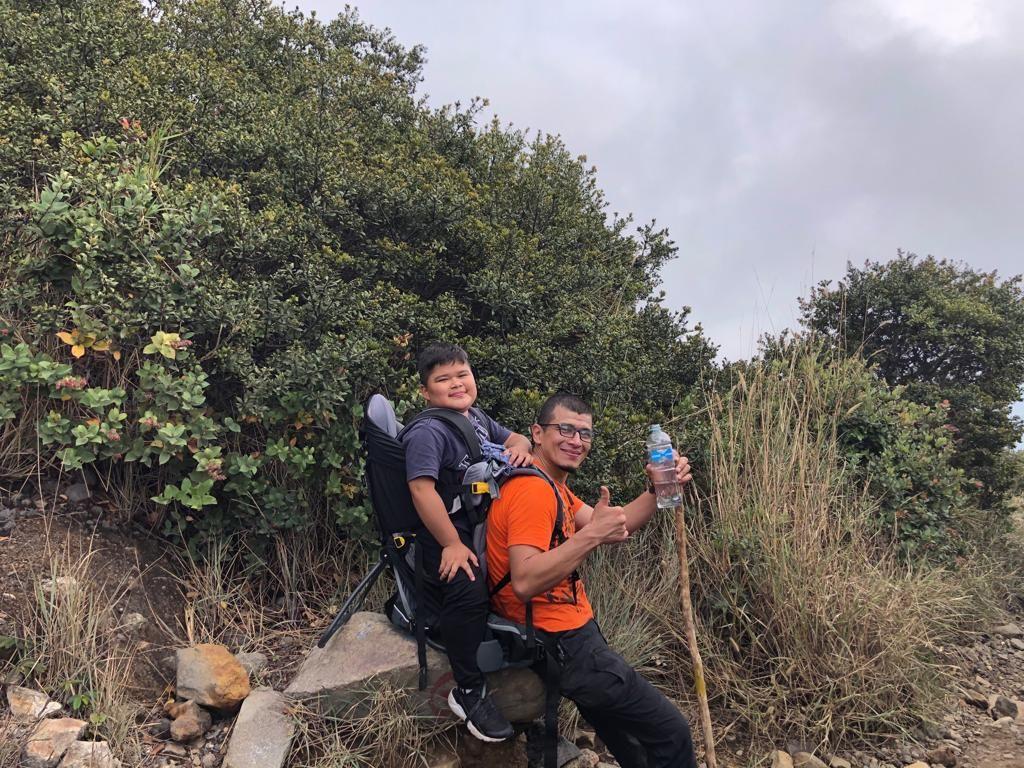 But the trip was more than just a fun and crazy hike for a dad and his son; it was also an awareness event for Duchenne and a fundraiser for medications, consultations, therapies, and more. A whole group of friends from their community came along to experience the adventure with Milton and Eduardo. When they reached the top, everyone cheered and applauded for them – it was quite a victory.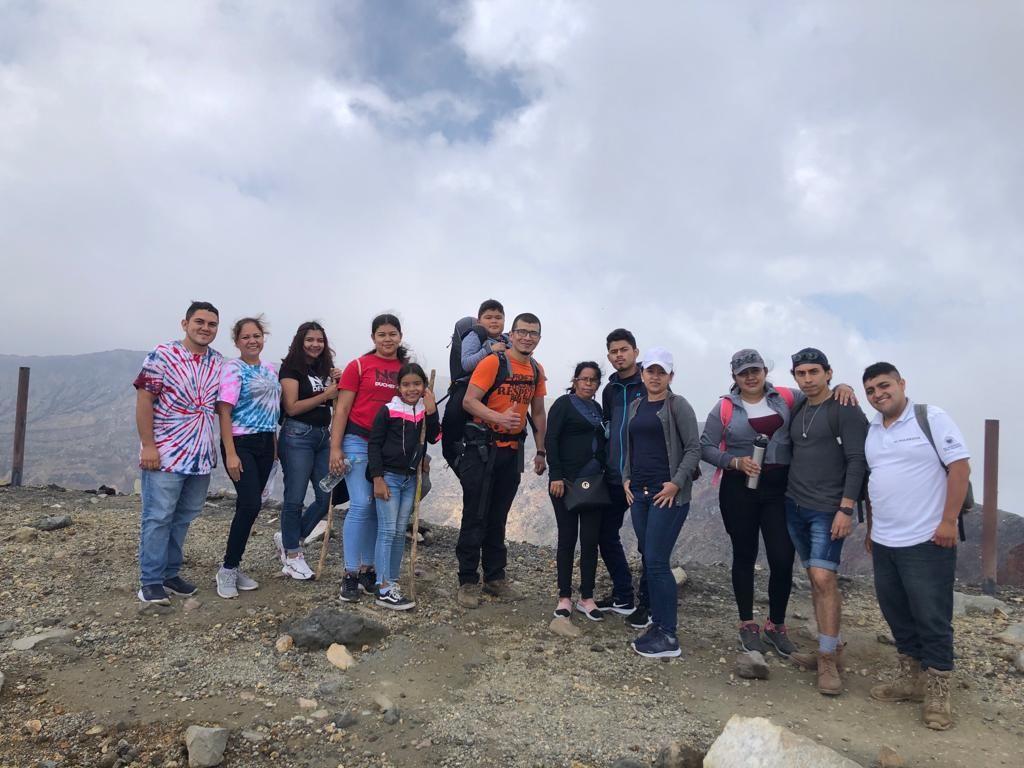 Eduardo is an extremely adventurous boy and loves heights, and you can tell by his huge grin that he loved every moment. Everyone who went on the trip had an incredible experience, and they were impressed with how comfortable the WCK pack was for Eduardo and his carriers. They are already planning their next adventure – climbing the Izalco volcano! It will be more extreme, but they want to do it and they have a better idea now of how to prepare for it. This time, they will have a few friends train together, so they can have a carrier team – like Kevan does! "We will definitely take the backpack with us," Milton says with enthusiasm. "It actually makes our lives easier, and we manage to conquer challenges and make our dreams come true."