Tom Troyer and I were on our way into the Carolina mountains. His band was recording for the weekend in a cabin, and invited me to tag along. In the car with us was his wife Joy, and she is the kind of wonderful woman who is just as adventurous as -- if not sometimes more than -- her crazy husband.
The car ride was a few hours and we somehow got on the topic of my dependence on other people. They, being two vital participants in our potluck, were well aware of my experience there and liked the idea of using that as a story premise of some sort. Maybe a day or weekend without my wheelchair could make a great statement to our community about love and self-sacrifice. But there would need to be a narrative, Tom pointed out. We had to actually do something. And that's when the idea came to him.
What if we went urban spelunking? He explained this was essentially cave exploration, but in a sewer system. Tom also said it was something he'd always wanted to do and he'd like to take me along if he ever went.
Skip ahead a few months. The album was finished and I was about to leave my 26-year home of North Carolina and move to Fort Wayne. It seemed like now or never to have our adventure! So, on a chilly Saturday night in March, Tom and four other guys (Philip Keller, Jackson Holt, and Luke Carson) strapped me to the frame of a hiking pack and descended into the bowels of the South. We explored three different sewer systems and also walked together through a college campus, even tromping through the central fountain in front of a gaggle of severely confused students.
Sewers come in all shapes and sizes, and we delved into some passages that were heated and well-lit and clean. Others were small and cold, infested and difficult to reach. We did some climbing and creek jumping in the process, and dodged a few patrol units to add to the thrill. It was four late hours of ducking, whispering, and cringing. In short -- every little boy's dream!!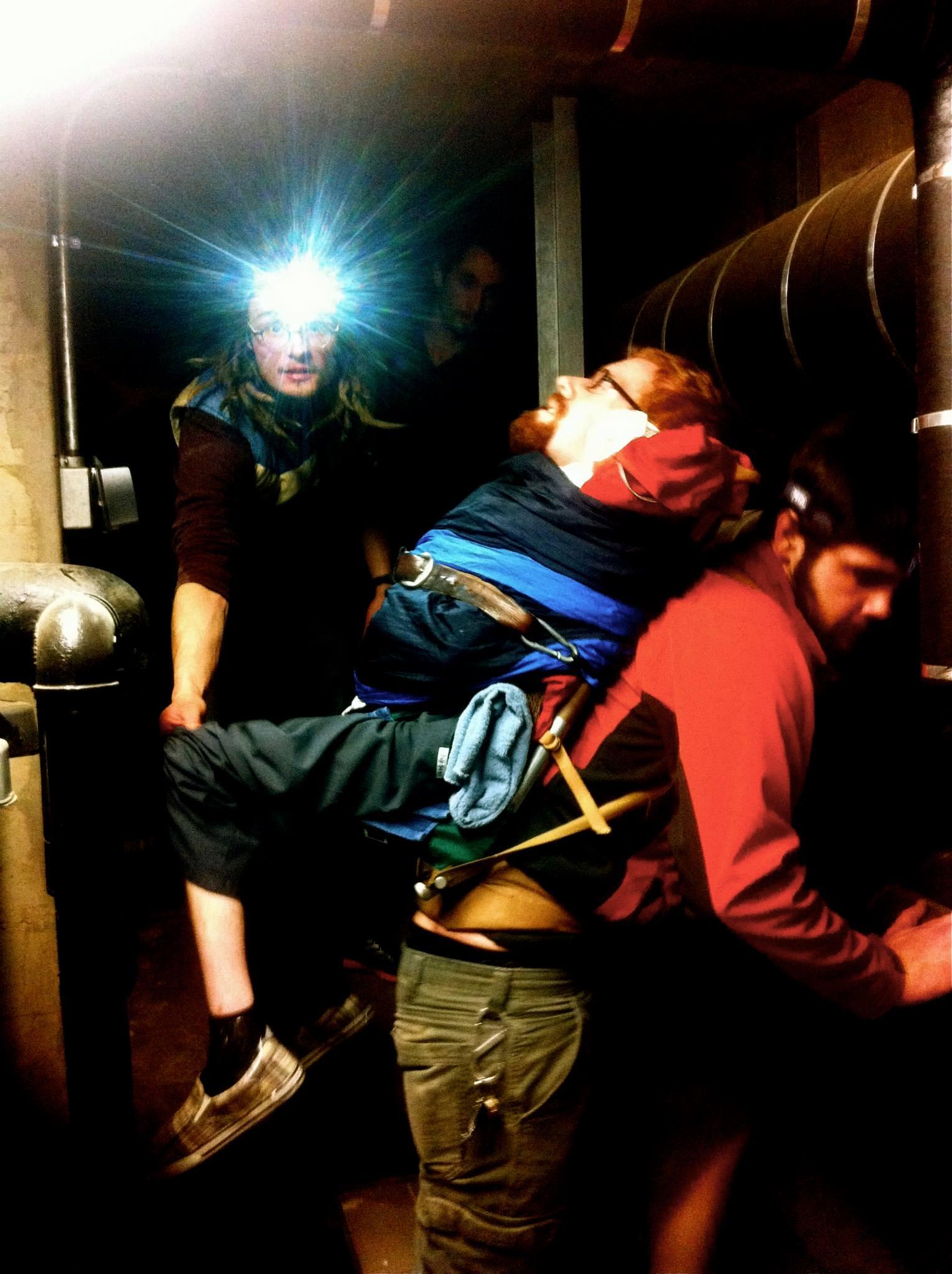 Afterward, we sat together at Jimmy John's (the only thing still open that late) and basked in the journey we'd just taken. We all were explorers before that night, but this... this was different. It's like we had double-dog-dared ourselves to do it, and there's a strange sense of accomplishment when you fulfill such dares and come out victorious on the other side. We had licked the frozen post, in a sense, and didn't get stuck. So, as with any self-respecting boy who survives that kind of insanity, a solitary question lingered in the air... 
What else could we do?